Enhance The Look of Any Space With Custom Wall Art
Custom decals for walls have the power to visibly transform blank walls into anything you wish. Customized wall stickers can uplift your home decor, boost your company brand, or enhance your space with motivational imagery, the possibilities are endless. Listed below are just a few ideas and inspirations for using our custom wall art decals. Have a wall graphic idea? Let us help you design your own wall decal! Learn more and find out about pricing by filling out a free quote form today.
Corporate Wall Art
With our custom wall decals, blank walls become opportunities. Put your brand images on full display anywhere in your facility. Immerse clients and shoppers in the experience you wish to create for them with brand-appropriate wall graphics and product imagery. Use our vinyl lettering for walls to display your menu, corporate messages, mission statement, and positive phrases around your business. Fill out a free quote form now and get started enhancing the walls of your business today!

Retail Stores
Enhance your retail shop's look while boosting brand awareness and product marketing with our custom wall decals. Display larger than life tantalizing images of your products, culinary offerings, menus, and imagery of people enjoying your services. Increase potential shoppers' interest in your store with eye-catching graphics on your retail store building's outside walls. Fill out our free quote form today to learn more.
Auto Dealerships
Custom wall decal stickers are perfect for auto dealerships looking to create a welcoming environment for customers. Showcase the intricate details of your premium vehicles blown up larger than life on your dealership walls. Give visual examples of enticing automotive features, styles, and show people enjoying driving vehicles you sell. Help people build trust in your brand, gain product awareness, and promote automotive sales with our custom vinyl lettering and wall art graphics on display. Fill out a free quote form now to get started ordering today!
Restaurants
Creating an enticing restaurant or food service experience for customers has never been easier with our custom wall stickers. Showcase large images of your menu items with every vivid mouth-watering detail. Use our custom vinyl lettering to display your complete menu, culinary principles, dedication to quality, and fresh ingredient guarantee. Get a free quote today.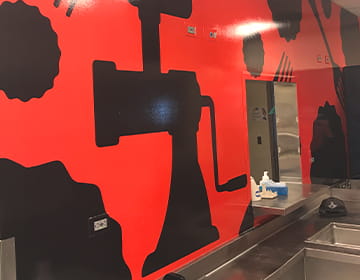 School and Institution Wall Prints
Display your institution's name and logo, enhance the visual appeal of hallways, and boost school spirit with our custom wall stickers. Place positive phrases anywhere you like with our custom vinyl lettering. Enrich classrooms with positive images, sports team logos, and educational information. Uplift healthcare practices with pleasant photo realistic wall murals. Strike emotion and thought in anyone visiting your location with our custom vinyl wall decals. Fill out a free quote form now to learn more.
Home Decor Wall Graphics
From pleasant bathroom wall decals to sports enthusiast basketball wall decals, custom wall art will enhance the rooms in your home; however, you see fit. Up your self-improvement practice with custom vinyl lettering of your favorite motivational quotes and biblical passages. Bring nature inside with butterfly wall decals placed throughout your home. You can even enjoy looking out at the ocean from any room no matter where you live with our beach wall murals. If you can dream it, we can print it. Get a free quote today.