Exterior Wall Business Sign Graphics Potential
Exterior wall graphics give you the power to visibly transform any blank outside walls into eye catching outdoor business signs. No matter your business type, these graphics will give you more oppurtunities to showcase your company logo, expand visible marketing, and allow you to add outdoor wall graphics that match your brand guidelines. Choosing the best placement for your exterior signs depends on your needs and location. Listed below are some inspirational applications for their use. Have ideas for your next exterior wall graphics? Learn more about our business sign services and find out about pricing by filling out a free quote form now.
Outdoor Corporate Wall Graphics
Put your brand images on full display anywhere outside your facility. Use them to display corporate messages, your mission statement, positive phrases, and imagery anywhere around your building exterior. They also work well as an alternative to channel letters and dimensional letters for grabbing attention and displaying important information. Fill out a free quote form and get started enhancing the outdoor walls of your business today!
Retail Stores
Enhance your convenience stores or retail signage and marketing with our custom exterior wall decals. They are a great alternative to outdoor banner stands that allow you to display larger than life storefront signs with tantalizing images of your products, culinary offerings, menus, and imagery of people enjoying your services.
Auto Dealerships
Custom exterior wall graphics are perfect for auto dealerships looking to create a welcoming brand experience the moment customers arrive. Showcase the intricate details of your premium vehicles blown up larger than life on outdoor walls. Give visual examples of enticing automotive features, styles, and people enjoying driving the vehicles you sell.
Restaurants
Creating an enticing restaurant or food service experience for customers has never been easier with our custom exterior wall stickers. Showcase large images of your menu items with every vivid mouth-watering detail on display. Use our custom outdoor wall graphics to display your menu, culinary principles, dedication to quality, and fresh ingredient guarantee for patrons before they even walk in the front door. For answers to any questions or comments please fill out a free quote form now.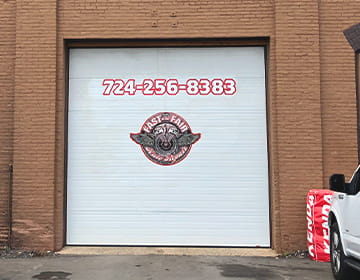 School and Institutions
Display your institution's name and logo, enhance your building exterior visual appeal, and boost school spirit with our custom outdoor wall stickers. Put positive phrases anywhere with our custom vinyl lettering. Enrich outdoor classrooms with positive images, sports team logos, and educational information. Uplift healthcare practices with pleasant photo realistic outdoor wall murals. Use them as an affordable and effective alternative to installing an expensive monument sign. Strike emotion and thought in anyone visiting your location with our custom exterior wall graphics. Fill out a free quote form now to learn more.